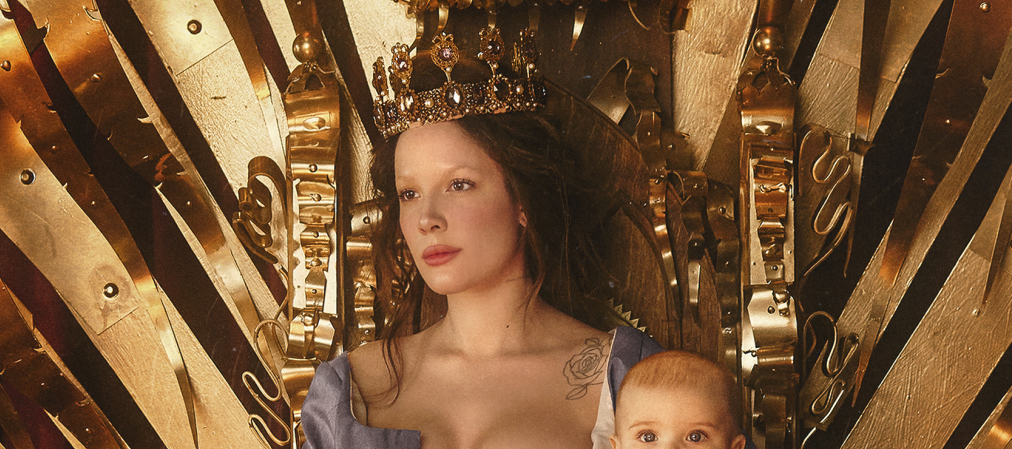 Halsey revealed the album cover and release date for her upcoming Nine Inch Nails produced record If I Can't Have Love, I Want Power, Tuesday morning on social media.
Her fourth album was initially teased a week ago with a billboard and revealing the official title and production credits given to Trent Reznor and Atticus Ross.
The medieval style cover features her and a child sitting atop a throne with sharp arches all seemingly pointing at her. She is adorned in a Victorian dress open at the top exposing her bare chest and on her head sits a golden crown.
According to Halsey herself the cover is very personal and expresses her feelings about pregnancy and breastfeeding. She writes: "This cover image celebrates pregnant and postpartum bodies as something beautiful, to be admired. We have a long way to go with eradicating the social stigma around bodies & breastfeeding. I hope this can be a step in the right direction!"
She continues with this same mindset while explaining the concept of her new record. As she puts it the album is not only about the "joys" of pregnancy but also the "horrors."
"It was very important to me that the cover art conveyed the sentiment of my journey over the past few months….  The idea that me as a sexual being and my body as a vessel and gift to my child are two concepts that can co-exist peacefully and powerfully," explained Halsey.
While the cover came as a shock to some fans, but many others were quick to point out that it bared a major similarity the "Melun Diptych" by Jean Fouquet. A painting depicting a "breast-feeding Madonna." Something that was intentional by Halsey as the painting was a profile picture she used for an alternate account used to tease the album before its official announcement.
If I Can't Have Love, I Want Power will release on August 27, 2021.