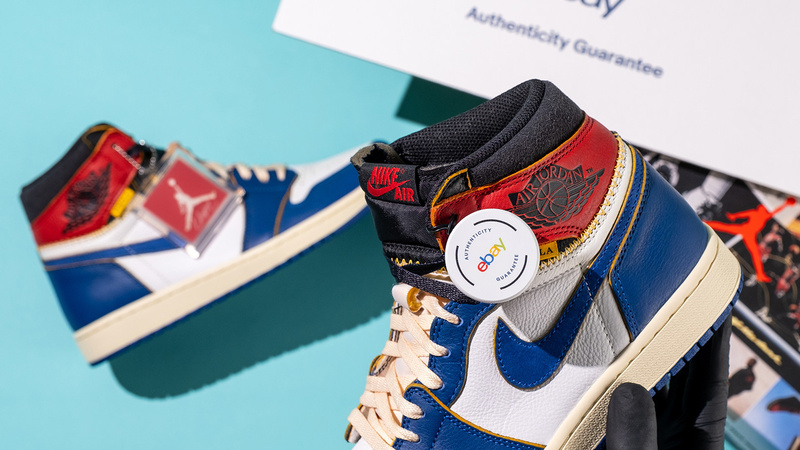 Online marketplace, eBay, launches their newest authentication program today in order to end the vending of counterfeit sneakers.
The original program, "Authenticity Guarantee" was initially only available for watches over $2,000 in the U.S. However, not unlike their consignment competitors StockX and Goat they've extended their program to "new and pre-owned collectible sneakers sold on eBay for over $100 in the U.S."
The sneaker marketplace has become one of the largest and most active online. According to eBay, there are over half a million sneaker listings on their site each day and every 1.5 seconds a sneaker is sold.
"Authentication has become an expectation for today's consumers in categories of high passion and high value, and this program makes eBay the most attractive platform for enthusiasts in these categories." says SVP and General Manager of eBay North America, Jordan Sweetnam.
Here's how eBay's new Authenticity Guarantee works: Once a sneakers purchase is made it is first shipped to an independent third-party authentication facility. There said sneaker is given a " rigorous assessment" before being sent to the buyer via expedited shipping.
The program is also designed to work inversely. For the sellers who offer returns the returning sneakers will go through the verification process again to ensure the same item is given back to the seller.
Verified sneakers are said to come complete with its very own eBay tag signifying its authenticity, similar to StockX's trademark green tag.
This is not the first time eBay has taken jabs at StockX. Back in April when StockX announced they would be adding a new 3 percent processing fee to all subsequent purchases eBay's twitter immediately fired back in a tweet that read, "We wanted to take this moment to remind our sneaker community that eBay has ZERO fees for buyers and ZERO fees for sellers $100+. Just sayin'."
The program for now will only be eligible for "most popular sneaker styles and brands" on the market. However, by early 2021 eBay plans to extend this program to all sneaker purchases over 100 dollars.