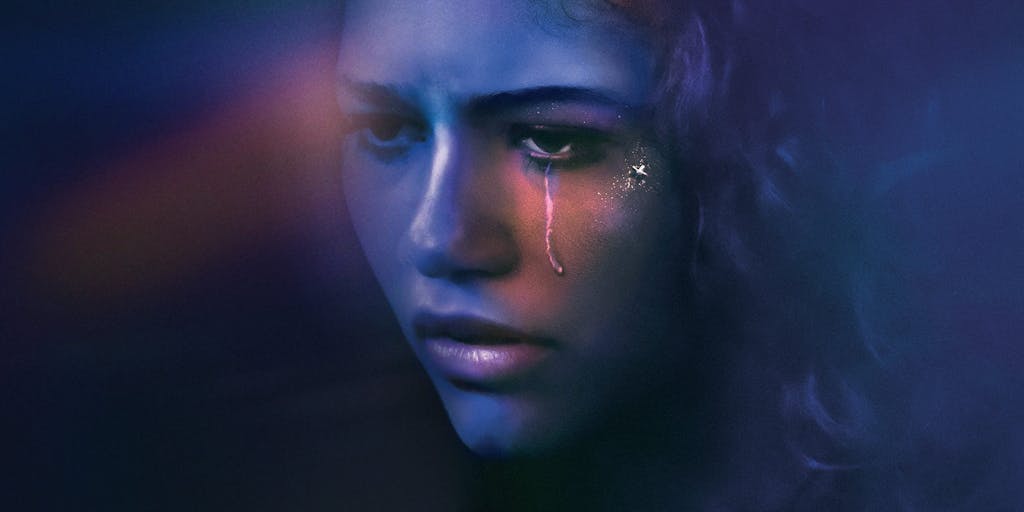 Euphoria is another one of those, teenage centric, celebrity produced, originals that, in the same vein as 13 Reasons Why, attempts to capture the true wonder and mystery of adolescence. Over the span of a few months, its garnered a very large fanbase and many are calling it one of the most brutally honest depictions of teenage life on television. While I beg to differ since this show was created by a man who hasn't been in high school in 16 years, beneath all the dramatization there are a few painful truths that lie beneath.
Based on an Israeli series of the same name, Euphoria was created by Samuel Levinson, an American actor, screenwriter, and director.  Much of the show was based on the original series as it prominently features teens struggling with a life that mainly consists of drugs use and sex. However, Levinson's personal struggles with drug abuse during his formative years also served as inspiration for those sections. That is the main crux of the story. The drug abuse, the misery that is bound to come with it, the struggles of attempting to quit, and the despair of failing several times.
When asked by an ATX representative about what separates Euphoria from the ongoing slew of dark, teenage melodramas, Levinson gave a non-commital answer saying he believed it was up to the audience to find their own answer. While this isn't necessarily false it's definitely unsatisfactory. So in an effort to defend a show I genuinely enjoyed, I will attempt to answer this question as well as how it holds up against actual contemporary highschool.
Firstly no, Euphoria is not the most realistic depiction of teenage life. It nails some things, completely misfires on others, and at some points just barely misses its mark. I will always maintain that the most realistic depiction of teen life is one that will actually cast teens as its lead actors. However, what Euphoria manages to ger right are typically what matters most to its central plot. Let's discuss that first.
The drug addiction elements are right. The main character, Rue, throughout the show faces the ongoing challenge of substance abuse. The pain her family, friends and fellow NA members feel are very much indicative of how their real-life counterparts feel. Most people around me ended up falling into drugs during my high school life and along with them, I was forced to suffer the consequences. It's the most gripping part of the story and therefore is most informed by real-life experience. I was never stupid enough to fall into such tendencies so my experience was very similar to Maude Apatow's character Lexi Howard.
Lexi is a bystander, silently watching, and sometimes subject to the antics her drug-crazed, hormone influenced friends and family often find themselves getting into. She's the one with the least amount of issues on the show and is also my favorite character. One may call her lazily written but there are a lot more Lexi's out there than one would think. In the last episode, her character starts to get deconstructed which is all too real. She is mainly seen interacting with Rue despite the fact that her older sister, Cassie, is another prominent character in the show.
Cassies struggle has to do with her reputation and how her life is affected by it, which is another pretty realistic part of the show. During the show, she dates another character Mckay who just so happens to be in college. This is pretty common in high school but the most faithful facet of it has to do with how Cassie is typecast. She has to deal with the "slut" stereotype and because of that, she is treated differently by most men in the show. It's somewhat painful watching this character interpreted. The only other couple on the show is Nate and Maddy which encapsulates the on again off again abusive couple. From their relationship derives the internal struggles between both of them characters which are pretty real in themselves.
I suppose if there was one thing that the show really struggled with it was with its writing. Toward the last stretch of episodes, the writing really begins to unravel and reveal awkward plot elements and holes. What Euphoria fights with the most is a classic case of "people don't talk like that" or in this case "teenagers don't talk like that." While it may sound like I'm generalizing a lot here there really are some moments where the kids don't really talk like kids.
I understand that there are some liberties that have to be taken as an adult writing for youths. However, some moments are utterly uncharacteristic. I do like that each character has their own level articulation, in the sense that some are very clearly more eloquent than others. However, in some cases, this has put Levinson into a corner and at times he's had to make some characters more rational than they should be. Personally, I think Rue shouldn't be as intelligent as she is in the show. She's a drug-addicted teenager who as far as I know never excelled in school. While that doesn't necessarily inform social ability as far as I'm concerned she should be grunting to communicate. It's especially annoying during her moments of narration, she speaks like she's reading off a script and not like she's coming up with these thoughts herself.
I understand the initial question I posed was what made Euphoria stand out among its contemporaries however I wanted to explain those things before I answered it. I think what sets Euphoria apart from other shows like it, is that unlike them it doesn't feel like a product. 13 Reasons Why has a commercial purpose, it attempted to jackpot off the current trivialized view of depression society has. On the other hand, Euphoria is very much a story personally tied with Samuel Levinson. Yes, it's based off another show but Levinson purposely parallelled his life to it in order not to muddle its artistic integrity.
Euphoria isn't a cautionary tale about drug abuse, although one could certainly take it that way. It's more so telling the story that's gripped its creator since their childhood. Look at the artistic choices in the show, its cinematography and focus on spectacle rather than the message. Even the last episode, despite being structurally faulty, the very final scene is so stylishly flared that its impossible to not recognize the passion and heart behind it. Euphoria is this surreal package that is just as confusing as the point of your life that it focuses on. It's a good illustration of the simple fact that for as long as time continues to tick, the mystery of adolescence remains a mystery.